Bhavani Iron Industries Pvt. Ltd.
---
Facilities

Melting
____________________________________________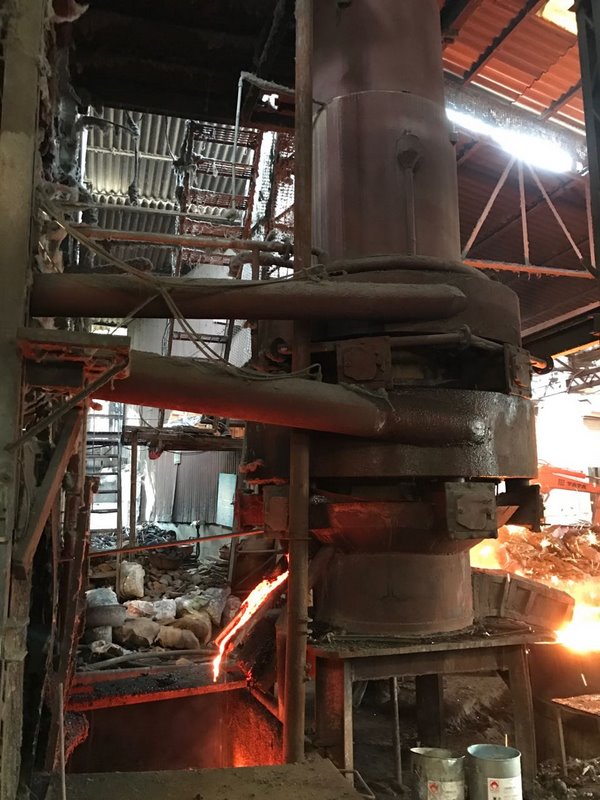 30" water cooled divided blast cupola with volume meters and pressure gauges having melting capacity of 6000 to 7000 Kg per hour. This cupola is fitted with wet scrubber for controlling pollution and slag granulation tank.
Skip Hoist for above cupola--- 1 no.
Portable Temperature indicators--- 2 nos.
Online Electronic Carbon Silicon Analyzer --- 1 no.
Metal crane weighing scale---1 no.
Ladles

3000 Kg---2 nos
2000 Kg---2 no.
750 Kg --- 2 nos.
300 Kg---3 nos.
75 Kg--- 3 nos.
50 Kg--- 5 nos.
Heavy Moulding Section
___________________________________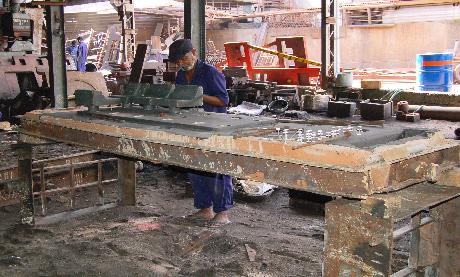 We specialize in hand moulded items. We have a team of about 30 dedicated employs who are highly skilled in taking up any complicated moulding job. As we are into heavy castings we have following facility to assist our people

Moulding bays with Heavy material handling facility 3 nos coverings about 6000 Sq. Feet.
Electric Hoists 5 ton capacity --- 6 nos.
2 ton/hour Automatic sand mixer --- 2 nos.
6 ton/hour Automatic sand mixer --- 1 nos.
Moulding boxes of various sizes listed below about 600 nos in 40 different sizes. The height is adjustable up to 2000mm.

Largest box size ---3200mm*2100mm.
Smallest box size --- 300m*300mm.
Some sample box sizes - 3000mm*800mm, 2000mm*2000mm, 1420mm*1090mm, 1190mm*890mm, 730mm*730mm
Core Shop

________________________________________________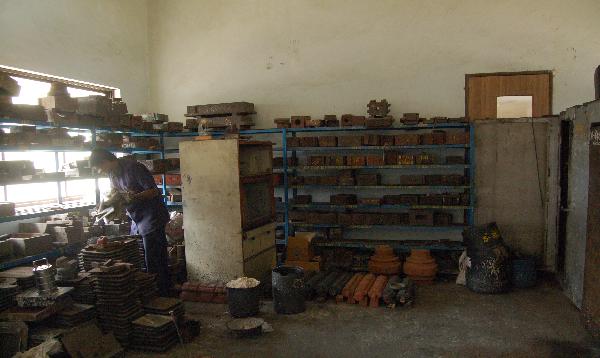 We use two part Nobake or Silicate-CO2 process for large cores. For smaller cores required in volume we use oil sand process. To carry out core making activity we have a separate core shop of @ 1500square feet. We have seven skilled people in the core shop. We have following equipment in the core shop.



Diesel fired core baking oven size 6feet*6feet*4feet. -2 nos.
Core sand mixer capacity 100 Kg ---- 1no.
Automatic Core sand mixer capacity 6 ton/hour -----1 no.
Electric Hoist ----5 ton capacity 1 no.
2 Tons electronic weighing scale for sand weighing --- 1no.
30Kg electronic weighing scale for weighing chemicals --- 1no.
Casting Cleaning

____________________________________________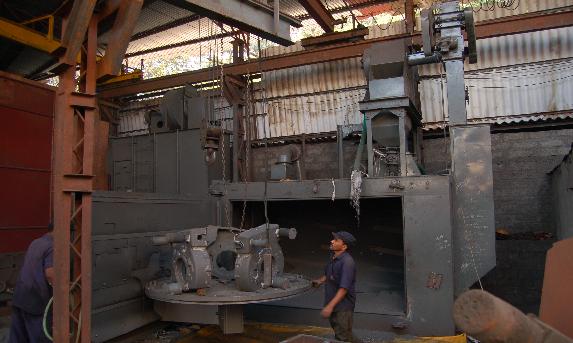 We have in house fettling and shot blasting facility. To assist our fettling people we have following equipment:


Table type shot blasting machine with 72" (1800mm) Table and 4 ton capacity --- 1no
24" (600mm) swing frame grinder --- 1 no.
9" (230 mm) angle grinders - 12 nos.
16" (400mm) Pedestal grinder --- 1 no.
Screw Compressor --- 1 no.
Pneumatic Chipper --- 1no.
Electronic Crane weighing scale of 3 ton capacity with remote display---1 no.
Pattern Making

____________________________________________



We have in house pattern inspection facility. We have tie ups with external pattern making houses.
Machine Shop_____________________________________________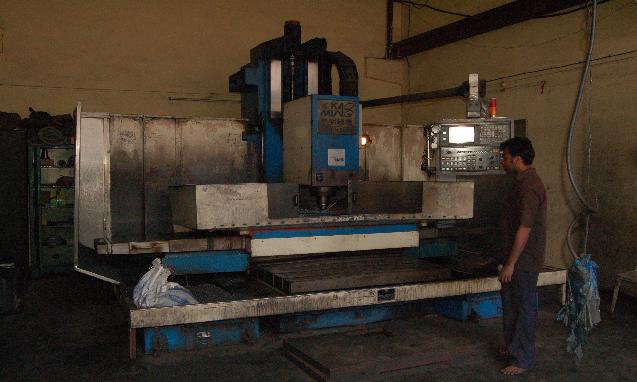 We are geared for proof and finish machining of heavy castings. We are equipped with CNC-VMC machines.

Vertical Machining Centre (Awea - Taiwan) having Travels X - 3000mm, Y - 1600mm, Z - 1200mm and table load capacity 6 tons.
Vertical Machining Centre (Kao-Ming - Taiwan) having Travels X - 1500mm, Y - 850mm, Z - 700mm and table load capacity 3 tons.
Radial Drilling Machine---Capacity 25 mm.

Quality Control_____________________________________________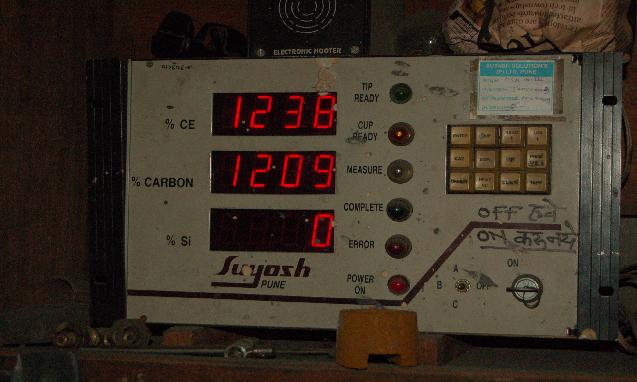 With the help of associated Company, Metafore Synthesis (where company director is a partner), strict control is exercised on each batch of incoming raw materials & outgoing products. Metafore Synthesis has following facilities.

Metallurgical Microscope with photographic attachments for microstructure analysis.
Wet analysis for following elements in Ferrous Alloys - Carbon, Sulphur, Silicon, Phosphorus, Manganese, Chromium, Tin, Copper, Nickel, Vanadium, Molybdenum, Lead.
Ferro Alloys analysis for - Ferromanganese, Ferrosilicon, Ferrochromium, Ferrophosphorous, Ferromolybdenum, Ferrosulpher (Iron Sulphide), Ferrosilicon Mg (Si,Mg).
Raw material testing for coke and coal dust - Ash, Volatile Matter, Sulphur, Phosphorus.
Limestone testing for - Loss On Ignition, Si02, CaO
Bentonite testing for - pH, Swelling capacity, Gel time, M.B. Test of Bentonite, Base Sand-Clay content (A.F.S. Clay), Base Sand-Acid Demand Value, Silica content in Base Sand.
System Sand testing for - Volatile Matter, Loss On Ignition, Total Clay, Active Clay, Dead Clay, A.F.S. NO., Moisture
Non Ferrous Alloys-Gunmetals, Brasses, Bronzes etc. testing for - Copper, Lead, Tin, Phosphorus, Zinc (by difference).
Tensile Testing.

For heavy casting we have facility for Poldi hardness testing.
---
Bhavani Iron Industries Pvt. Ltd., 1325/1-B Shivaji Udyamnagar, Kolhapur 416008, India